The granddaughter of French immigrants and Professor of French History at Vanderbilt University, Holly Tucker writes extensively on true crime in early Europe. She lives in both Nashville, Tennessee and Aix-en-Provence, France, chronicling her adventures in the South and the South of France in her journal along the way.
Holly's most recent book, City of Light, City of Poison: Murder, Magic, and the First Police Chief of Paris (W.W. Norton), follows the first police chief, Nicolas de la Reynie, as he works tirelessly to root out organized crime in the city only to find a cabal of poisoners, witches, and unholy priests whose dark works go all the way to the gilded halls of Louis XIV's Versailles. From La Reynie's personal notes, interrogation records, torture accounts, and other memoirs comes an unforgettable true account of wicked deeds and dark souls in the City of Light.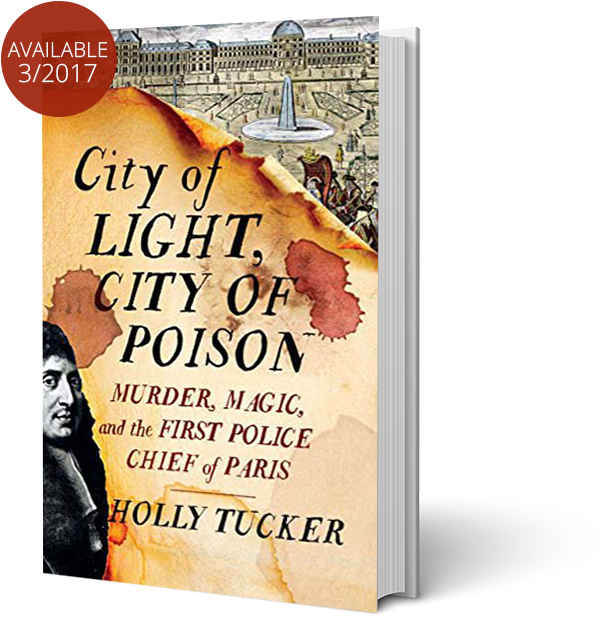 SIGN-UP FOR AUTHOR UPDATES & BOOK GIVEAWAYS
Receive regular updates from Holly with a behind-the-scenes look at life in France, research, and book publishing. In the lead-up to the release, Holly's publisher will also be giving away copies of City of Light, City of Poison.
 "Full of danger, mystery, and excitement, it will keep you up well into the night, marveling at this forgotten world of dark intrigue."
Candice Millard
Author of Hero of the Empire
"At once bewitching and chilling, the dark story of toxic intrigue, murder, and mayhem in the Sun King's France reads like the most gripping thriller, thanks to Holly Tucker's storytelling flair and relentless research."
Adrienne Mayor
Author of The Poison King
"With novelist verve, Holly Tucker conjures a fierce tale of conspiracy and retribution."
Michael Sims
Author of Arthur and Sherlock
"A meticulous historian"
The Economist
New York Times Declares City of Light "True Crime Book for the Beach"
If mystery novels appeal to the credulous child in me, true crime stories speak to my inner voyeur. In reading this current batch of books, I've walked alongside a prisoner on her way to her execution, learned how to poison a wineglass and watched a king's mistress do away with her rival. And that's only from the first book on my list: CITY OF LIGHT, CITY OF POISON:...
The New Yorker Reviews City of Light!
CITY OF LIGHT, CITY OF POISON, by Holly Tucker (Norton). In 1667, Louis XIV, hoping to reduce crime in Paris, created a law-enforcement position—the lieutenant general of police—with sweeping powers of surveillance and detention. Tucker's history focusses on the first incumbent, Nicolas de la Reynie, who built up a network of informants and discovered more than he'd...
WXXI Connections Interviews Holly about City of Light, City of Poison
Torture. Sweeping police powers. Unlawful detention. Scandal at the highest level. We're talking about... Paris, roughly 340 years ago. In a remarkable new book, professor Holly Tucker tells the story of l'Affaire de les Poisons -- the Affair of the Poisons, which rocked France and put a target on King Louis XIV himself. Louis responded by appointing Paris' first police...
Historical Novel Society Spellbound by City of Light, City of Poison
Paris in the late 17th century was not a place for the faint of heart. Despite the frightening ease with which you could be imprisoned without trial on the king's command, the infamous lettre de cachet, crime, particularly at night, was rampant in the city. Paris was such a city of darkness in fact that it was in danger of becoming "an embarrassment" to the Sun King. In...
Bookwitty Declares City of Light, City of Poison Engrossing & Appalling
Holly Tucker's City of Light, City of Poison is a riveting tale of power, passion and toxic lovers set in seventeenth century Paris. Tucker's account of what became known as The Affair of the Poisons may read like a novel but is built from her meticulous study of historical documents and includes scintillating excerpts from court documents, memoirs, letters and records...