The granddaughter of French immigrants and Professor of French History at Vanderbilt University, Holly Tucker writes extensively on true crime in early Europe. She lives in both Nashville, Tennessee and Aix-en-Provence, France, chronicling her adventures in the South and the South of France in her journal along the way.
Holly's most recent book, City of Light, City of Poison: Murder, Magic, and the First Police Chief of Paris (W.W. Norton), follows the first police chief, Nicolas de la Reynie, as he works tirelessly to root out organized crime in the city only to find a cabal of poisoners, witches, and unholy priests whose dark works go all the way to the gilded halls of Louis XIV's Versailles. From La Reynie's personal notes, interrogation records, torture accounts, and other memoirs comes an unforgettable true account of wicked deeds and dark souls in the City of Light.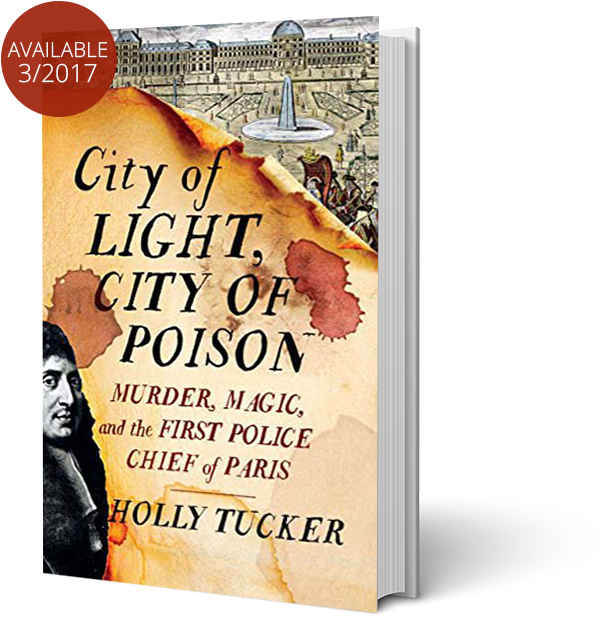 SIGN-UP FOR AUTHOR UPDATES & BOOK GIVEAWAYS
Receive regular updates from Holly with a behind-the-scenes look at life in France, research, and book publishing. In the lead-up to the release, Holly's publisher will also be giving away copies of City of Light, City of Poison.
 "Full of danger, mystery, and excitement, it will keep you up well into the night, marveling at this forgotten world of dark intrigue."
Candice Millard
Author of Hero of the Empire
"At once bewitching and chilling, the dark story of toxic intrigue, murder, and mayhem in the Sun King's France reads like the most gripping thriller, thanks to Holly Tucker's storytelling flair and relentless research."
Adrienne Mayor
Author of The Poison King
"With novelist verve, Holly Tucker conjures a fierce tale of conspiracy and retribution."
Michael Sims
Author of Arthur and Sherlock
"A meticulous historian"
The Economist