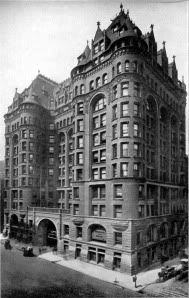 Like many readers several years ago, I was enthralled with Erik Larsen's The Devil in the White City: Murder, Magic, and Madness at the Fair that Changed America
. As an academic who usually has her nose in dry "scholarly" tomes, I have to admit that my page-turning experience felt a little like a guilty pleasure.
When I finished the book, I thought a lot about why I loved it so much. I'm a professor, after all! We're supposed to take everything apart.
I found my answer on page 25.
I realized that the book appealed to me at a number of levels. The story, of course. It's gruesome, fascinating, and compelling. But I was also intrigued by the architecture of the story-telling too. Larsen's attention to the details of the story's construction leap from the page. But, there, on page 25, it all came together:
"[Root] envisioned digging down to the first reasonably firm layer of clay, known as hard-pan, and there spreading a pad of concrete nearly two feet think. On top of this works would set down a layer of steel rails stretching from one end of the pad to the other, and over this a second layer at right angles. Succeeding layers would be arranged the same way. Once complete, this grillage of steel would be filled an discovered with Portland cement to produce a broad, rigid raft that Root called a floating foundation."
I didn't realize it as I was reading…but I had just learned how to build a skyscraper! And now, when I visit my family in Chicago, I never look up at those gargantuan buildings the same way.
I think Cynthia Crossen, who writes the Wall Street Journal's "Book Lover" column, explains it even better than I do. Take a look at her recent article "Learning While You Read."
I try to focus at every turn on compelling storytelling in my own writing. And frankly, I've always wondered why more of us in higher education don't craft more accessible stories. After all, in my classes, I tell stories all the time to lure my students into history (in my case, the history of medicine).
So now one of my favorite quotes is this one, again from Larsen:
"I write to be read. I'm quite direct about that. I'm not writing to thrill colleagues or to impress the professors at the University of Iowa; that's not my goal….I want to be accessible and I want to convey something." [Full interview here]
Great advice!