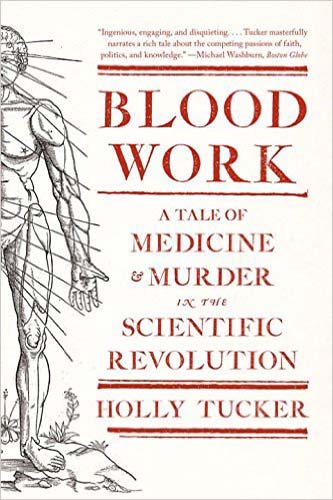 On a cold day in 1667, the renegade Jean-Baptiste Denis plucked an insane man off the streets of Paris and transfused him with cow's blood.
A few days later, the patient was dead – and the transfusionist soon faced murder charges…
Set in seventeenth-century London and Paris, Blood Work (W.W. Norton, 2011) is a story of political infighting, professional backstabbing, and the struggle to control the most powerful commodity in seventeenth-century Europe:  knowledge.
Using blood transfusion as a frame for the larger social history of the Scientific Revolution, I track the confluence of cultural, political, and religious forces in a world undergoing radical transformation as science and society changed at a pace never before imagined.
I came across the fascinating – and bizarre – story of early animal-to-human transfusions as many professors do…while preparing a lecture on the history of blood circulation (discovered in 1628 by William Harvey) for one of my history of medicine classes at Vanderbilt University. My work on the Denis case would soon lead me through the violent and dirty streets of early Paris, into the affluent homes of French nobles, and across the Channel to a plague-ridden and fire-destroyed London.
As I hunted down answers to the madman's death, I became fascinated by how one of the most common procedures in medicine today – blood transfusion – had such a long and fraught history. With the possibilities of genetic manipulation, stem cell research, and cloning, I do think we're also deep in a similar moment of "Scientific Revolution."
Time will only tell which of our modern discoveries stick, and which ones are cast aside for another 150 years like transfusion was after the Denis trial. And like the early transfusionists, we have to ask the same time-worn questions they did: How far are we willing push the limits of science? And at what price?
SIGN-UP FOR UPDATES & GIVEAWAYS
Receive regular updates from Holly with a behind-the-scenes look at life in France, research, and book publishing. In the lead-up to the release, Holly's publisher will also be giving away copies of City of Light, City of Poison.
Purchase City of Light, City of Poison
Purchase your copy of City of Light, City of Poison and get an exclusive gift pack for a limited time!

1.) Early access to chapters from City of Light, City of Poison, chosen just for folks who purchase early
2.) A Q&A with Holly: the Story Behind the Story
3.) A Personalized Bookplate to put in your copy of the book

Better yet: Support Independent Bookstores! Order from Parnassus Books and Holly will sign the book personally. (Be sure to include inscription instructions in the comments section of your order.)
New York Times Declares City of Light "True Crime Book for the Beach"
If mystery novels appeal to the credulous child in me, true crime stories speak to my inner voyeur. In reading this current batch of books, I've walked alongside a prisoner on her way to her execution, learned how to poison a wineglass and watched a king's mistress do away with her rival. And that's only from the first book on my list: CITY OF LIGHT, CITY OF POISON:...
The New Yorker Reviews City of Light!
CITY OF LIGHT, CITY OF POISON, by Holly Tucker (Norton). In 1667, Louis XIV, hoping to reduce crime in Paris, created a law-enforcement position—the lieutenant general of police—with sweeping powers of surveillance and detention. Tucker's history focusses on the first incumbent, Nicolas de la Reynie, who built up a network of informants and discovered more than he'd...
WXXI Connections Interviews Holly about City of Light, City of Poison
Torture. Sweeping police powers. Unlawful detention. Scandal at the highest level. We're talking about... Paris, roughly 340 years ago. In a remarkable new book, professor Holly Tucker tells the story of l'Affaire de les Poisons -- the Affair of the Poisons, which rocked France and put a target on King Louis XIV himself. Louis responded by appointing Paris' first police...
Historical Novel Society Spellbound by City of Light, City of Poison
Paris in the late 17th century was not a place for the faint of heart. Despite the frightening ease with which you could be imprisoned without trial on the king's command, the infamous lettre de cachet, crime, particularly at night, was rampant in the city. Paris was such a city of darkness in fact that it was in danger of becoming "an embarrassment" to the Sun King. In...
Bookwitty Declares City of Light, City of Poison Engrossing & Appalling
Holly Tucker's City of Light, City of Poison is a riveting tale of power, passion and toxic lovers set in seventeenth century Paris. Tucker's account of what became known as The Affair of the Poisons may read like a novel but is built from her meticulous study of historical documents and includes scintillating excerpts from court documents, memoirs, letters and records...